Last year I considered heading to Ohio for a late fall DIY public land archery hunt. I've never hunted Ohio and was planning to tag along with a few friends who make a trip to the Buckeye state regularly. Unfortunately, our plans fell through, so this season I decided I'd make plans to go solo if need be.
Hunting a new state can be a challenge, and visiting new state to hunt public land has the potential for disaster. There are oftentimes more questions than answers. What part of the state has good hunting? How much public land is available to hunt? How much hunting pressure do public lands get in Ohio? Despite the challenges, I was determined to complete this public land hunt in 2016.
Location, Location, Location
When I began planning, the only thing I knew was that I'd be hunting public land in Ohio. I chose Ohio since it's the closest big buck state to me, geographically, and out-of-state tags can be purchased online at a reasonable cost. My next step was to figure out in what county I'd be hunting. After I did a little online research, I quickly realized that Ohio has more public land than I had anticipated.
I determined I'd like to hunt in the southern region (a known big buck county) of the state and was intrigued by the AEP land. AEP land is land once strip-mined for coal in the 1940's and eventually purchased by AEP. Since then, a vast reclamation project, to the tune of 60,000 plus acres across the state, has created ideal habitat for a variety of wildlife.
The Ohio DNR and AEP website were great resources for my initial map and habitat research.  I was able to view maps for various locations and read descriptions of the habitat and type of wildlife the specific sections of public land is best suited to support. Some lands were focused on providing grasslands for bird hunting and smaller game, while other sections centered on more big timber and row crops for larger game.
With the county determined and a few larger tracts of public land selected, it was time to begin zeroing in on land features, topography and working toward identifying specific hunting locations. I first used a standard boundary map on the AEP website to identify what was public land vs. private land and to eliminate areas that may be used by hikers, bikers, campers etc… I wanted to get as far away from human activity as possible. After surveying the boundary maps I decided to focus on an area of river bottom to the north with steep ridges to the south.
Online Scouting
Since I live a little more that 7 hours away from where I'd be hunting, doing a drive by scout of the area wasn't an option. My only option was to do my initial scouting online to uncover potential hunting locations. This helped me narrow my focus of land features I'd like to scout and be more efficient once I got to Ohio. One of my favorite scouting tools to use (regardless of my familiarity with a piece of land) is Google Earth. This is my go-to resource any time I'm reviewing new possible hunting lands.
While reviewing aerial images, I was looking for land and habitat features that may attract and hold deer. Ideally, areas that would be difficult to access, more than half mile from the access point, found their way to the top of my list. I also looked for areas with a reduced likelihood of running into other hunters, elevation changes with varying terrain features (saddles, pinch points, and drainage cuts), a food source if possible, and adequate cover. After several hours of scouting using Google Earth, I found a handful of locations that peaked my interest.
The area I was most interested in was a river bottom with two larger cornfields separated by a small strip of timber and a deep drainage cut running through. On the opposite side of the corn fields is a sharp elevation change, with what looked like a bowl feature at the top of the ridge. From what I could tell online, this area looked like it met all of my search criteria. I dropped a few pins on Google Earth and logged the GPS coordinates. Now it was time to put boots on the ground to confirm my online scouting assumptions.
Satellite image of the area I scouted. The pin to the far left will be the area I focus on this November
Boots On The Ground
With my GPS coordinates logged, I set a date for a scouting trip to the Buckeye state. During the course of planning, my friend Tate and his buddy Eric decided to join me this fall and both were game for a late summer scouting trip. Two weeks before our scouting trip we had a meeting to iron out the details of where we were headed and the areas we'd be scouting. We met at Eric's house and enjoyed a frosty pilsner as Eric gathered his folders containing the maps he's used on his previous hunts in Ohio. I wasn't sure where Eric had hunted in the past and was willing to change my hunting locations, even if he preferred a different county than I had scouted on line. After all, he's been hunting Ohio Public land for years and would have a sense of where the better hunting would be.
We finished our beers and and Eric began pulling maps from his folder. At this point Eric has memorized land features, crop rotations cycles and perennial rub lines.  After sharing a few maps and thoughts, I asked what location he'd prefer to hunt.  As luck would have it, for 7 years Eric had been hunting the land I wanted to scout—it's like we were meant to take this trip together. Having Eric on the trip would certainly cut down on some of the guess work.
4 a.m. came early on September 10th. I met the guys and we piled into my truck and headed west on the PA Turnpike, arriving at our destination around 8 a.m.  The food sources in this area were vast. Acres upon acres of corn and soybeans grew in every direction. There was no evidence here of the drought that we were experiencing across the state line. The timber was made up of a variety of hard wood with thick undergrowth—ideal whitetail habitat. The ridges were steep and the amount of green briar and brush made navigating the terrain difficult. The Google Earth images were as accurate as I'd hoped for.
We scouted a few locations where Eric had hung a few stand in previous years before heading to the area that I was hoping would be my go-to spot. Once I got into the timber, I immediately noticed a handful of nice rubs at the base of the ridge. I began working my way up the ridge and came across several deer trails, with a well worn deer trail running diagonally up the ridge.
Rub from last year at the base of the ridge. This rub line runs the length of the ridge bottom.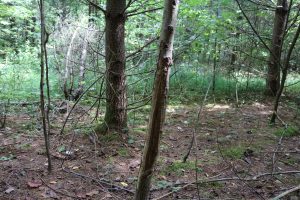 The entire ridge was thick and nasty with green briar. Once I made it to the top of the ridge, there was a small clearing in the brush with a tree that seemed well suited for a climber.  I also noticed this tree sat at the head of a drainage cut and on an edge where the brush gets almost impassably thick. The trails running the side of the mountain all led to this thick cover. It was clear deer were using the low lying feature of the drainage cut as an additional travel route and working the edge of the habitat change of the ridge top. This would be the location I'd focus on this November.
While scouting online I noticed the back side of this ridge had small depression between this ridge and the ridge just to the south. In general, I like terrain changes like this and in this steep country it seemed like a low lying area deer may use as an easier path to travel the ridge top.  I hiked out along the ridge top and dropped down the south side and into a bowl. There was buck sign everywhere along with some more well worn trails. This is one of those spots you get a feeling about. Something tells me this would be a great location and I'm pumped to spend some time hunting this area next month.
Final Thought
With my trip only a few weeks away, I feel confident about the locations I pinpointed in Ohio. My drive-by scouts consisted of pinch points leading into a food source  that I could clearly see on Google Earth and identify by driving past the location. The drive-by also confirmed what I assumed from my online scouting and the plan is to mix in these locations during my hunting trip. I'll plan to hunt Ohio a few days during the first and second week of November, a few days in late November, and again in late season.
I've been looking forward to this trip for a year and am trying to keep my expectations reasonable. The possibilities and the unknowns of this trip, however intrigue me. Regardless of the outcome, the preparation, anticipation, and time spent with fellow hunters will keep me coming back for more.