Today's article is from my Buddy Aaron Hepler. You may have heard him on the podcast and you'll start to see him contributing more frequently to the Truth From the Stand Blog!
Search engines and online reading material are great, but there really is a place for turning the page of an actual book to learn something new. Pieces of my childhood and youth stick with me because of reading outdoor books and magazines cover to cover, over and over.
Today just about anyone can write and self-publish a book. When it comes to books about whitetails and DIY hunting, it's hard to find which materials are reliable. That's especially true if you're new to hunting and unfamiliar with hunters that are at the cutting edge of the whitetail scene.
Physical reading material is just as important for veteran hunters as it is for those getting started. For newbs learning the ropes, books are rather effective. Notes and highlighters at the forefront, and some kind of mapping system will get a new hunter pointed in the right direction. Everyone needs to form a plan before walking into the woods.
As someone who has hunted for more than twenty years, I can truly say it's easy to get distracted and forget some basics. I frequently return to a few of my favorite books as a refresher. It's important to keep basics at the forefront of your mind and build from there.
This is a compiled list of a few books that have helped develop some of my public land skills and a little extra along the way.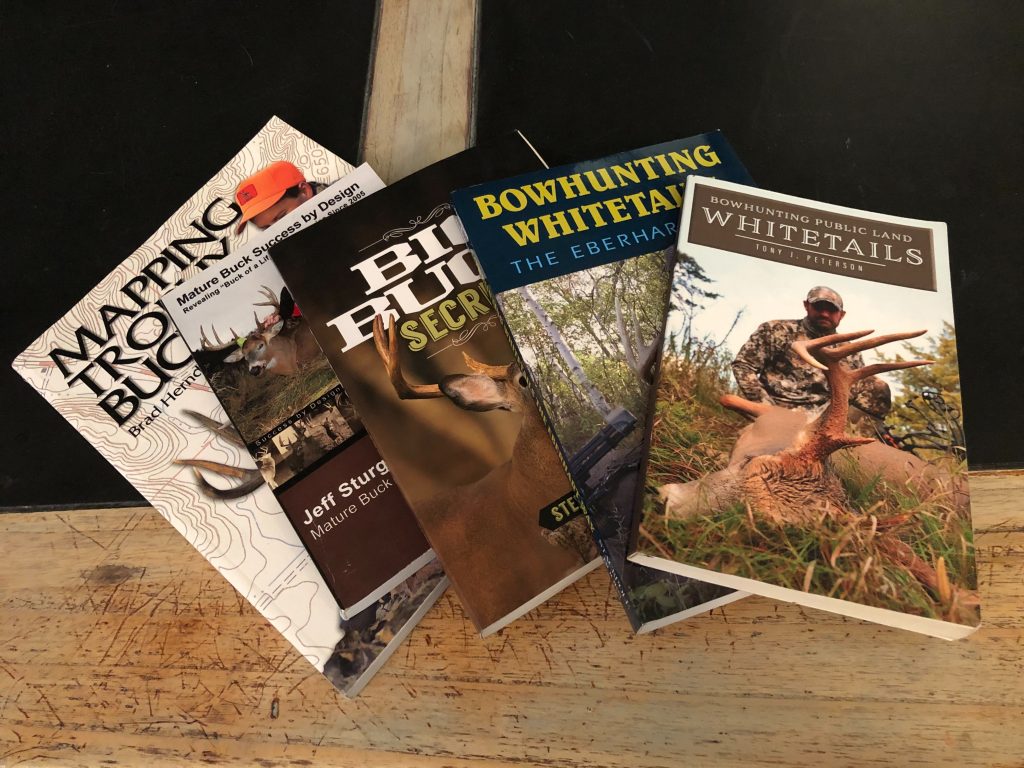 #5 Mature Buck Success by Design. By Jeff Sturgis
Jeff is a whitetail and land management specialist. While much of Jeff's material focuses on land management and improving habitat, Jeff isn't afraid to put boots on public ground. I've had the opportunity to read four of the Whitetail Habitat Solutions series and this one was easily my favorite.
This book separates key differences of behavior and habits of older age class bucks. Using in-depth, calculated tactics for applying wind, terrain, and cover, Jeff has built himself a solid resume on public spaces. Across the Midwest, as well as our base in Pennsylvania, there's a bit of something everyone can take home.
#4 Big Buck Secrets by Steve Bartylla
If you follow Steve in any media outlets, you are well aware that this guy knows his stuff about whitetails. The man is simply ate up with them. Steve's foundation is with Deer & Deer Hunting magazine, but his social media accounts have really great info as well. Like Jeff, Steve is a whitetail consultant and has taught many hunters how to find success in the whitetail woods on both private and public lands.
In Big Buck Secrets, Steve offers instruction on finding overlooked areas of public land. Topics dissect how to surpass the crowd and pull satisfaction from your hunting experience. Steve also has unique thoughts on scent control regimens that many have adopted.
Books on hunting regularly overlook work/hunting/home life balance. Steve talks about the importance of ensuring your home life is stable. His insights into a happy life outside the field are invaluable.
#3 Bowhunting Whitetails The Eberhart Way by John and Chris Eberhart
John is a favorite guest on the Truth From The Stand podcast. His son Chris, who co-authored this book, lost his battle to cancer in 2020. He was a whitetail fanatic and knew how to get it done anywhere he went. We're sorry for your loss John. Chris will be remembered and missed.
John and Chris's approach to whitetails is what I call stealth aggression. Their hunting strategies switch with the changing seasons and are outlined for everyone to understand easily. Both John and Chris focus a lot of attention on primary scrape areas.
Their approach to scent control is an intense regimen that not many other hunters apply. Their only concern with wind direction is how a mature buck may utilize that specific wind for movement. But wind never stops them from hunting their desired hunting destination.
This book is excellent for someone that's hunted for a long time and needs a fresh perspective. It's also perfect for beginning hunters as it covers all the basics for sign, strategy, and detailed descriptions of gear.
#2 Mapping Trophy Bucks by Brad Herndon
Brad is a hunter/writer that doesn't come up very often in the media world. But I've read this book twice. Brad really does a fine job teaching foundational knowledge of map reading.
For a hunter just learning to read topo, or learning about funnels and pinch points, this is the book to buy. Learning about classic terrain features – and understanding how deer relate to them – is a vital element of whitetail hunting.
This is a great book to own, even for seasoned hunters. Sometimes we just all need to go back to square one to figure things out. All the knowledge out there makes it easy to overlook the basic elements of hunting and scouting. Reading this book twice has saved me from some stale hunts. There have been "oh yeah" moments, where I know I forgot to look for an important feature. Remembering fundamentals has really put me back in the saddle if I'm having a difficult time putting the puzzle pieces together.
#1 Bowhunting Public Land Whitetails by Tony J. Peterson
I'm probably a bit biased on this book. Tony is a public land whitetail nut that has really taken me under his wing and taught me tons in the three years we've known each other. That bias is justified because his information and knowledge are spot on, especially when it comes to critters of any kind on public lands.
Tony wrote this book in 2018 and really it's a compilation of all his best advice. Tony is a relatable guy that just about any bowhunter can pull ideas from. His hunting style and advice cater well to the average person while really increasing knowledge of how to be a successful, and satisfied, bowhunter. You'll get a lot of this read as far as stories and strategies that can be applied to every bow hunt.
Obviously, every private land hunter can employ tactics to give them an edge on properties they hunt. But this book strictly outlines public land hunting. Finding overlooked spots, finding barriers to getting away from crowds, personal excerpts of success and failure, and so much more can be found in these pages.